"I am a believer that if a product exists for you it makes you feel validated."
Buck Angel is one of the most famous transgender men in the world, having built upon his experience in the adult entertainment industry to become an activist, educator and someone who seeks to create visibly for transgender men and masculine-of-center individuals. 
Now, Angel is teaming up with Perfect Fit Brand to release the first sex toy designed to specifically meet the needs of transgender men.
Called the Buck Off, the product stems from multiple conversations between Angel and the company about how trans men have historically had to adapt sex toys intended for cisgender people to meet their needs.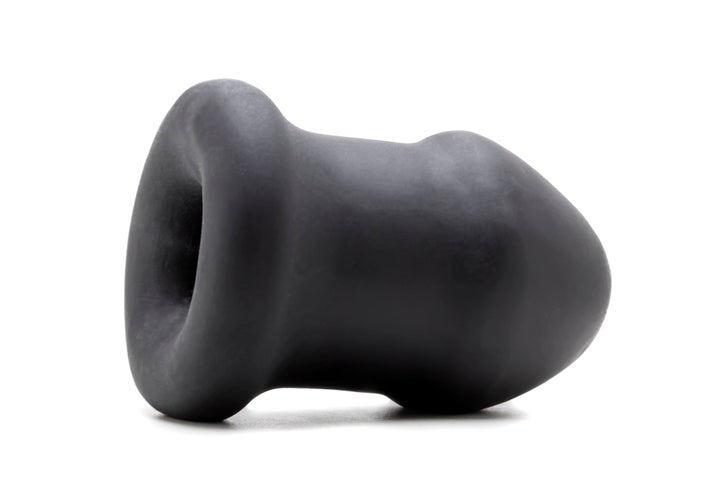 "Talking with other trans men, as well as [taking into account] my own sexual needs, I knew this was an important product," Angel told The Huffington Post in an email. "It is super validating when you walk into a shop and see a product made for you. It gives you a feeling of being recognized. I also think it says 'masturbation and sexual needs are normal for everyone.'"
This product is both revolutionary and incredibly necessary for the transgender community. Check out Angel's conversation about Buck Off with The Huffington Post below and head here to read more about the activist's journey.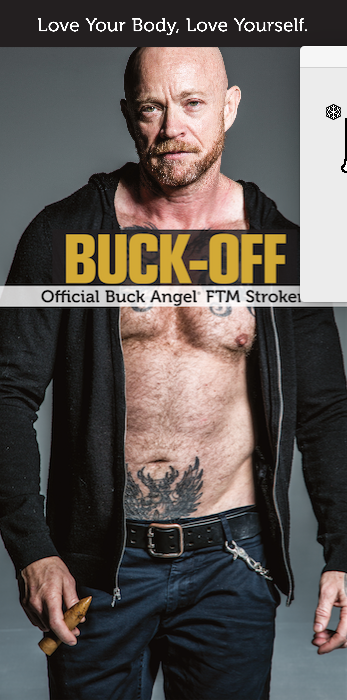 The Huffington Post: Why did you decide to make this sex toy? Why is it important that we have a sex toy that specifically meets the needs of trans men?
Buck Angel: This transmale sex toy needed to be made and I have been advocating for it for years. The reasons being, in my opinion and many of the transmen I have spoken with, is that toys are fun and they let you experience your body in ways that you might not be able to without one ― they encourage you to explore.
Some trans guys have spoken to me about not wanting to touch their genitals ―specifically their vaginas ― because they are not connected to it as male. I totally understand that as it took me years to get to the place where I am now and feel totally sexually comfortable with my vagina ― and toys helped with that. The toys that [have] existed on the market were made for cisgender people. Trans men have different genitals which means they have different needs. Many of us had to alter products in order to make them work for us. One of the things I used to do was use nipple suction devices or a cisgender masturbator and cut it up to make it fit my anatomy. I am a believer that if a product exists for you it makes you feel validated. Trans men have never had anything in the pleasure products world that said this is yours! This fits your genitals. This is so affirming in many ways. I believe it will help trans guys feel more comfortable to masturbate. In a way it is giving you permission. When you transition, sex is a big part of that. And if you are missing out of exploring your newfound body, I think this could be harmful and does not teach self love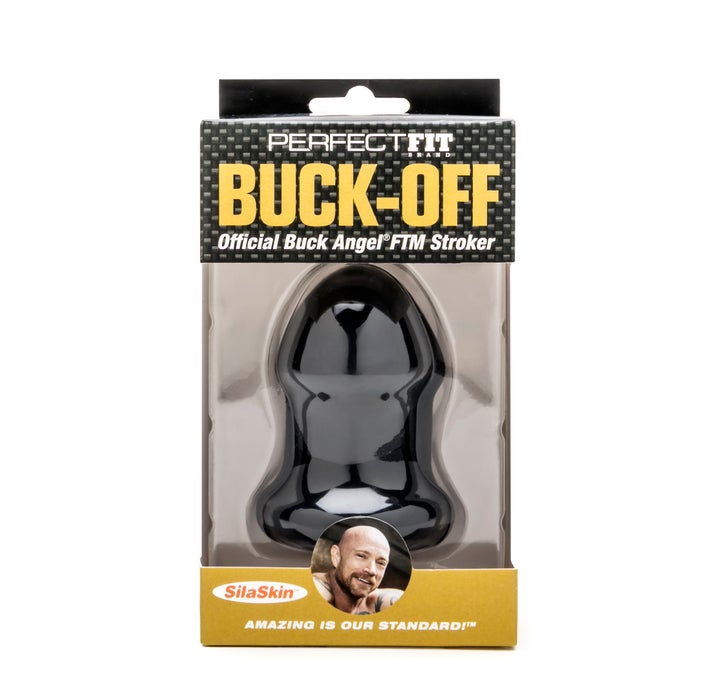 When you transition, sex is a big part of that.
How does this sex toy work?
Great question. What I have designed along with Steve Callow, the CEO of Perfect Fit Brand, is a device that fits over your vagina. Trans men who are using testosterone have larger clitorises and genitals. So I have designed the Buck Off to be used for men on HRT. The device then enables you to get a suction and then you can actually start to stroke with it. This is why we called it an FTM Stroker. Basically, it works the same way a cisgender stroker works but for trans male genitals. If you would like to see a very graphic video of me showing how to use it follow this link to Porn Hub.
What was the process of creating and testing the toy like?
Lucky for me I met Steve. When I pitched him the idea, in less than five minutes he said, "Dude that's a no brainer, lets do this." So we started having design meetings and I brought in toys that I have used, as well as ones from my friends. I showed Steve how we use these. He then started to construct a sketch and from there we just started fine tuning. We made a couple samples, I used them and gave feedback on what was needed. Steve went back to the drawing board and the Buck Off was born! It was a pretty great process because I already knew exactly what I wanted and Steve is a great designer, so the two of us together made it happen.
How do we get therapists and sex educators to start utilizing this toy in their practice?
That has already started and one of the reasons I really think this is such an important product. I want to be able to teach all health care professionals about the Buck Off to show how important connecting to your body sexually through transition is so important. I speak at many mental health and sex education conferences and I am very well received. The support from these communities has been amazing. 
Want to check out the Buck Off yourself? Head here.
BEFORE YOU GO
PHOTO GALLERY
15 Things To Know About Being Transgender By Nicholas M. Teich